MIS QlikView – Management information system – It's a set of very advanced and effective tools and applications for data analysis and data mining, whether it is from the MAGIS applications, or any other data source. It includes data warehouse and tools for flashy and quick presentation of data. Pre-defined applications for sales analysis, financial analysis, construction of timelines and trends, indication of critical value of indicators, etc. These tools are from the category of BI - Business intelligence.

Do you lack easily accessible information about sales, for example which service – product – customer is the most profitable or unprofitable?
Would you like to be able to see the development of average prices quickly and clearly, or the development of purchased supplies from your suppliers, and to be able to compare all this data?
Are you interested in clear representation of fulfillment of the sales and production plan?
Do you lack an expressive indicator to tell you, that your customer is "withering" and that sales to him have been dropping lately?
Do you find it difficult or even impossible to "dig out" an important information, that you just thought of, and you need to find it in your business application, knowing it's hiding there somewhere?
Are you having trouble finding answers to growing number of your randomly-occurring questions?
Would you like to know those answers, even when you are outside the office, preferably using a device you carry wherever you go (e.g. a mobile phone) ?
Answers to your questions can be found by our application MIS QlikView – Management information system. Application, which can surprisingly easily "dig out" answers to your questions, from wherever they are hiding, and shape them into an easily understandable representation. With new tools and technologies that we offer, it is surprisingly easy, very fast and most importantly, effective.
Do not hesitate and help your business, by using MIS Qlikview. We can help you!
Product description
Applications for data analysis (including "MIS QlikView" application) are very popular tools for monitoring long-term trends, identifying choke points and monitoring critical indicators. Only by analyzing long-term data it is possible to find real causes of problems, which have been smoldering under the daily business agenda and are hidden in a flood of other data. These applications work with data saved in different parts of business database, usually in data-warehouses with long history records, but maybe even spread among different types of databases. Part of the solutions we offer are tools for creating and filing data-warehouses, as well as tools for analyzing data stored in data-warehouses or directly in business applications.
Our applications are running on extensive databases where, using powerful specialized tools for analysis, they provide clear representation of the stored data instantly and with no regard to the amount of data. Mentioned tools for analysis allow for doing flexible (ad hoc) changes of preset data views according to the current needs of the manager. Each user can create his own views and data representations, define his own indicators and criteria according to his needs.
For MIS applications we use progressive technology from one of the market leaders in this field – Qlikview developed by Qliktech. Their advantage is quick (typically instantaneous) speed of changing views even when working with large amount of data, which is achieved thanks to specialized technology for data storing. It is of course possible to combine it with classic report tools, like Report Generator, or to use it to export data from a relevant view to data in XLS tables. Both options are regular parts of management applications supplied by us.
We offer and deliver individual approach to MIS solutions, as well as pre-defined applications as an expansion of our MAGIS applications. We currently provide pre-defined applications for financial analysis, including calculations of relative indicators, for sales and purchases analysis in companies, for sales and production capacity analysis for custom production, and much more… Those solutions can be implemented surprisingly quickly. Our MIS solutions are highly valued especially by management and owners/shareholders.
Application MIS QlikView can be implemented as an extension to basically every business solution (ERP system), thus not only as a part of business applications MAGIS PRO / MAGIS Lite.
Summary of used SW technologies:
data warehouse: MS SQL, Pervasive.SQL or different DB engine according to customer requirements.
data mining and reporting: QlikView, a tool for in-memory data analysis, in either Local Desktop version or WEB application.
Description of QlikView technology can be downloaded here… (english)
Strengths of MIS QlikView applications and advantages of using it
Immediate display of crucial information from database in a simple and well-arranged form, both for PC's and mobile devices (mobile phone, tablet, notebook).
Quick realization of the MIS application by our experienced analysts and very quick user adoption.
Quick investment returns
Surprisingly effective and easily manageable user-defined functions and tools for editing the preset application, creating user-defined views and even their own applications
Immediate response to ad-hoc queries even in extensive databases, thanks to patented technology of in-memory analysis.
Thanks to experience of our analysts, who prepare and preset the MIS QlikView applications, you really can find the right answers to your questions.
Users of our MIS applications reveal unsuspected connections and trends even among large amounts of data, which provides them with a significant competitive advantage.
Screenshots of MIS QlikView applications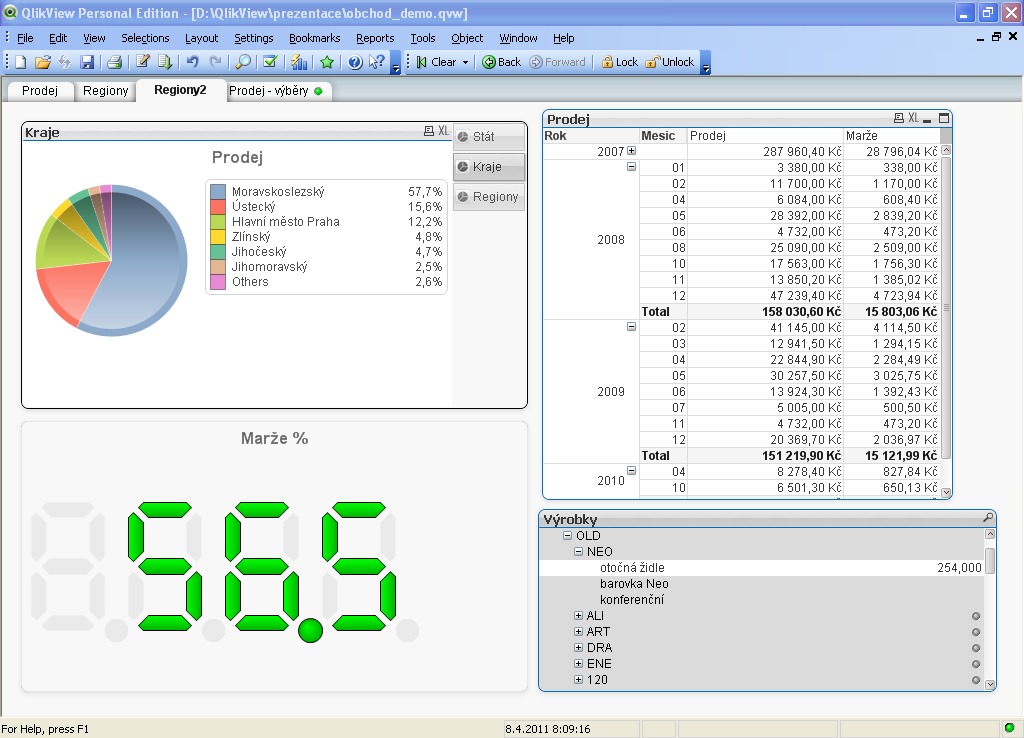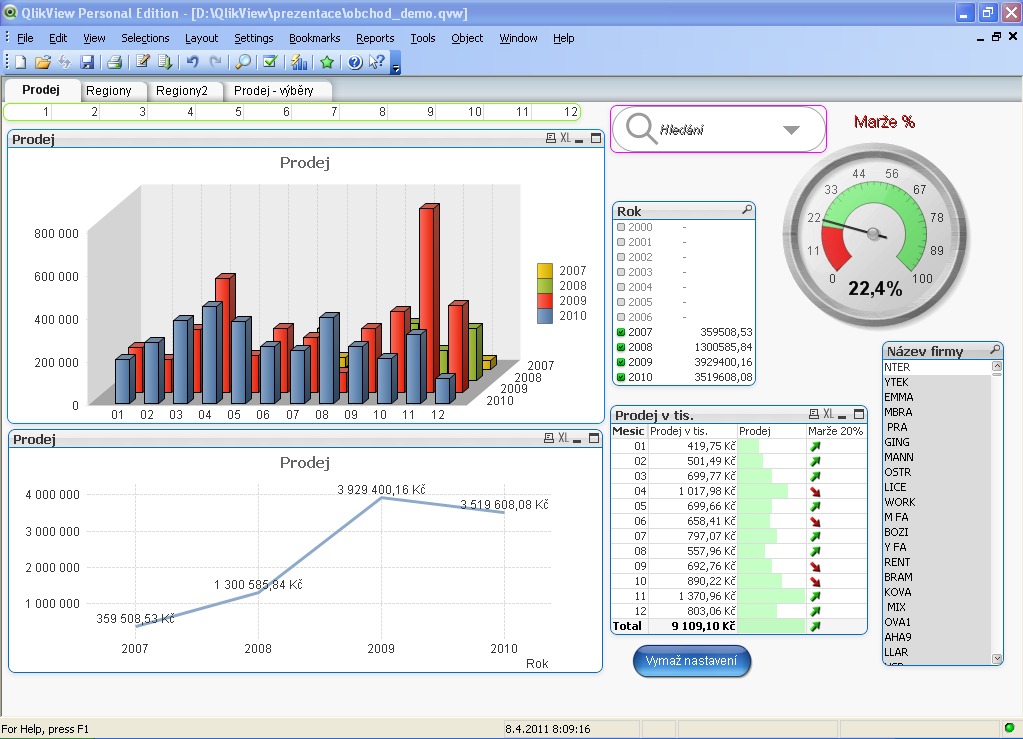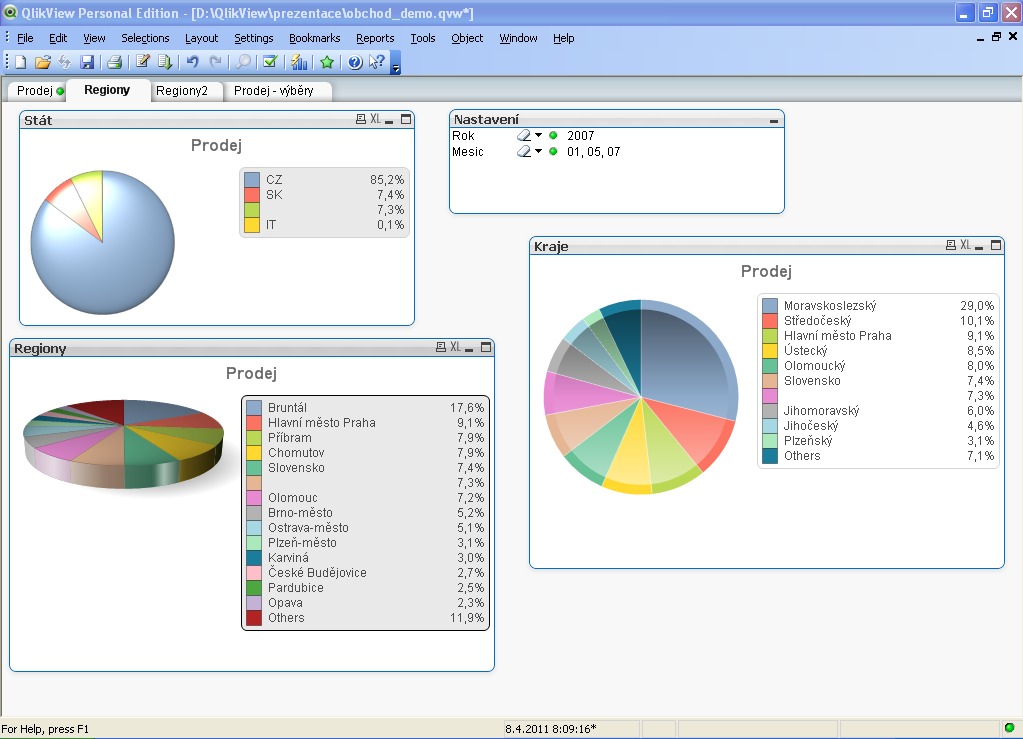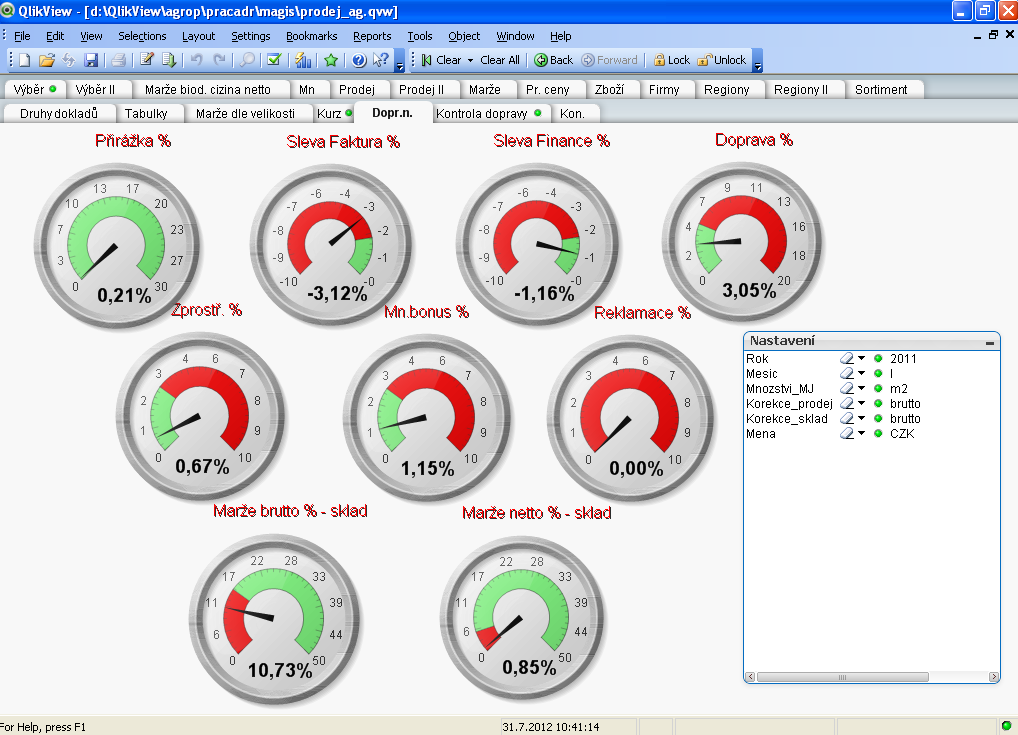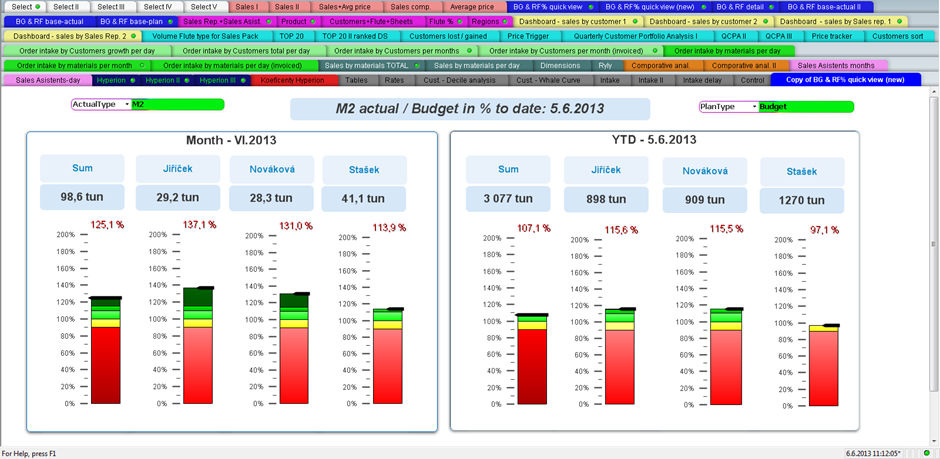 Sample applications – Live DEMO
Notification: number of accesses to Live DEMO applications is limited, so sometimes they may be temporarily unavailable.
Sales Compass

It is an application for businessmen providing quick daily summary of the most important data.  It's best suited for those, who need to know the business situation of the company every day, fulfillment of plans and trends in the product sales. Application contains required data fields checks (data quality check) connected to CRM application.

Paper production – covers

DEMO application from company working in the packaging industry. Application analyzes production data and transactions.

SnowView – Ski Resort Rating

An interesting DEMO application, which allows skiers to compare ski resorts in their quality of service.

 
 
 
 
More Live DEMO applications here…